If you are looking for a quick and simple way to establish your company's presence on the World Wide Web, but don't have the time or money for a site designed wholly from scratch, consider the Commercial Web Bundle. WebSpan has provided this as the easiest way for both small companies and large corporations to take their first step into the digital world. WebSpan provides everything your company will need for an effective website, including:
Five pages for your site, with the HTML coding and linking set up for you,
Hosting charges for one year,
A domain name for your company,
An e-mail account and ten aliases,
Design layout and Consultation, and
In turn, your company provides WebSpan with:
A Company Logo
One graphic per page (If desired)
Informational content
Note: All images provided to WebSpan must be ready to be put on the page, ie: 256 colors in .gif or .jpeg format. Scanning or creating original graphics may be done for an additional charge.
It's as simple as that to establish your company on the fastest growing avenue of marketing in the world. Contact WebSpan for more information.

New! Design Your Own!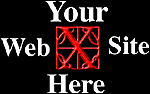 WebSpan is proud to introduce a new feature for the Commercial Web Bundle:Design your own! By clicking on the X at the left, you will be linked to the Your Site Here Home Page. This page contains a catalog of backgrounds, customizable graphics, and layouts. Choose whether you want your site to include tables, frames, counters, forms, and more! All items are designed by our professional designers to accentuate your site and make it elegant and distinctive.
Experiment with all the different customizable settings, and view the 'finished product' as it would appear on your site. Once you've found a setup you enjoy, fill out the provided form to sign up for the Commercial Web Bundle with your stated preferences already in place. It's the fastest way to get exactly what you want!